"ODE TO THE BOGDAN REEL"
(working title)
By Patt Wardlaw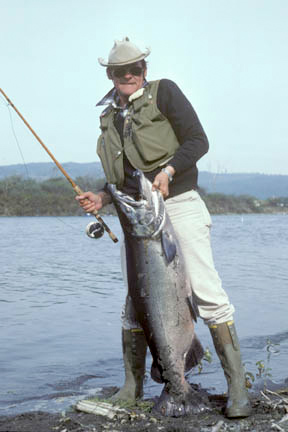 Photograph of Patt Wardlaw and forty-plus pound Chinook Salmon, circa 1976, selected for Stanley Bogdan's published biography.
Stanley Bogdan's fly reels are a lifetime investment in landing great fish. It is that simple.
They rank at the top of all my most cherished, worldly possessions. If Stanley Bogdan built cameras, they would be named Leica. His watches would be called Rolex. His cars? Porsche, because of their cutting-edge performance and endurance.
I caught my first sunfish in New Jersey's Picatinny Lake at age five and first wet a fly line for trout in its little Rockoway River at nine. It was the 1930s and I was limited to places I could walk or have my dad take me. As I matured, my territory expanded as did my methods and tackle. But, now in the seventh decade since then, I realize I've never been a "natural" fisherman - - nor been particularly lucky. I've had to work hard to learn the craft and always made an effort to use the best equipment to try to give myself an edge. If I have developed a strength, it is that I land a very high percentage of the fish I am able to coax into striking my fly. The greatest credit for that success belongs to my Bogdan reels.
By the time I was 30 I had long heard that these were the finest reels made. I read up on them as much as I could and, after studying the Bogdan's several advanced features, became completely convinced they were the best. I was seeking bigger game than my Jersey and Pennsylvania experiences had netted me. I decided I had to have one. During the next five decades, that choice was rewarded with spectacular fly-fishing beyond my wildest dreams, as I developed a great passion for these marvelous reels.
THE HISTORY OF OL' NUMBER "0"
I acquired my first Bogdan in1959. I'd just sold my first business venture (a radio station in Erie, PA); to celebrate, I treated myself to a trip to the original Abercrombie and Fitch in New York City before moving the family to California. I left that store with all kinds of wonderful wool and safari clothes, an anorak and one No. "0" Bogdan multiplier fly reel, left hand crank.
In 1960, I first used that number "0" reel for big 'bows in the Upper Klamath River on an early glass rod called the "Rainbow" by Sila-flex. I soon promoted the reel to steelhead, salmon and salt-water use. Since then it has seen action mounted on a variety of glass and graphite rods (and one bamboo), many of which have been stressed to complete exhaustion and collapse. It has helped me fatigue a variety of game fish ranging from five-pound Kelp-bass to fifty-pound-plus salmon (with bonito, barracuda, and Yellowtail in between.) All the fish landed on that reel would number in the thousands; yet ol' No. "0" has never been back to the factory for repair.
Finally, in 1990, after decades of intense use, the original crank handle just plain wore out. It was easily changed when Stanley mailed me a replacement part. Years later, the reel's foot showed signs of deterioration from long saltwater exposure while in a dissimilar metal reel seat. (Locals think electrolysis set in, which is why boats have zinc plates to protect the engine block). I replaced that foot, as easily as the crank, for a mere $25. The reel still sees hard use with the drag and all other parts continuing to function flawlessly.
As my horizons expanded to more rivers and a variety of seas, I added other Bogdans and now employ five different sizes of the reel - - from the smallest and lightest "00" to the big "300" and another "0" - - none of which have ever needed repair. (Once, I preventatively replaced a "00" spool suffering minor corrosion, caused by my failure to flush it thoroughly over several seasons in saltwater.) These reels have seen action from the Atlantic and Caribbean through the Gulf of Mexico and Sea of Cortez to the Pacific as far west as Tahiti. On this continent alone, they've traveled with me from Alaska to Central America. They have tired Tarpon well over 100 pounds, 200 pound-plus sharks and lots of big Albacore Tuna. On just one day in Mexico, 12 different species fell to "ol' # 0" (all on the same fly). I've used every tippet class with them and the drag has performed as smoothly with two-pound as well as with the 20-pound test.
BOGDAN ASSISTED WORLD RECORDS:
After the 20-pound tippet class was introduced, I took advantage of it to claim an IGFA White Sea Bass fly rod record in 1996. The same fish also won the IGFA all- tackle contest for that year.
Other records that Bogdans helped me establish began with the Salt Water Flyrodders of America (SWFRA) before the International Game Fish Association (IGFA) included a fly rod division. My first were for Pacific Bonito up to 15 pounds, in three tippet classes. Our Santa Barbara Channel was the world bonito capitol until the 1990's. On scores of occasions we chummed schools to my boat, The Purist, with live anchovies from a 70-gallon bait tank, hooking one of these sprinters on nearly every cast. We could do this several times a day and hold schools within casting range for one, two and even up to three or four hours. No fish in fresh or salt water matches bonito for fight, pound for pound. My Bogdans have played many, many hundreds, perhaps even thousands!
The Santa Barbara Channel is also a prime area for bass and I had filed four different tippet class records with SWFRA for Kelp Bass and Sandbass. Unfortunately, these two species were not recognized as game fish at takeover by IGFA, so the documentation was lost. Later, the IGFA added them both and recent records have been established. I don't submit any catches now, releasing them because of severely dwindling populations (a five pounder is said to be some fifteen years old). Seventy-five fish days were not uncommon until the mid-1990s. Bogdan's strongest drag settings were sometimes needed to prevent those striking deep from escaping into the rocks or kelp.
OTHER CHALLENGES
Yellowtail, which often enter our Channel, are another tough fish that can make long runs. Halibut, mackerel and barracuda are plentiful and will take the fly readily. So will big blue shark and rockfish of many varieties such as Ling Cod and Red Snapper. All of these often require maximum drags to prevent their escape into the rocks, and my Bogdans have done an excellent job of handling them.
Chasing Albacore is a blue water experience and I venture out from Morro Bay, when weather permits, if schools are within 50 miles. Three of us once held a school, chumming with live anchovies, for four hours. During that the 22-foot Purist drifted five miles in a good breeze. I hooked and played several of these tuna in the 35 pound class, landing six. The proper drag setting prevented even one from breaking my 12-pound tippet. I can't imagine using any other reel on fish that can easily tear off 200 yards of backing and then sound, needing strenuous pumping. The Bogdan's faultless drag brings them to gaff although the battles are often long and grueling.
TARPON
Tarpon are spectacular game fish because of the amount of high jumping they exhibit. In Costa Rica's Rio Colorado they are especially challenging because of the strong river current. The fish can run much deeper in the 20-foot depth than they can on the flats of the Keys. They are generally big fish, averaging 75 pounds; I have seen them at more than 200 pounds (going the other way). Considerable pressure may be needed to leverage them off the bottom or slow a current-assisted escape to sea. Yet, when tarpon come up, which is often, one still needs to "give them the rod". The instant on-off drag of the direct drive Bogdan facilitates this. All its intermediate click stop settings take away the guesswork that exists with anti-reverse reels requiring spinning a knob to some arbitrary position. With a Bogdan, you always know where you are and exactly how to set or reset the drag.
Once, after landing several Tarpon in what I would call "normal" fashion - - letting them tire themselves - - I was challenged to see how fast I could get one in. I changed from 12 to a heavier 18-pound tippet and when the fish hit, set the hook and just flipped the #150's drag all the way on. Eight minutes later I released the fish, estimated at 75 pounds. Not any kind of record time, but it demonstrates that the Bogdan drag can be set strong as easily as it can be completely released.
USING ALL THE BOGDAN FEATURES
The combination of all the Bogdan's components contributes significantly to landing difficult fish. With drag settings delicate enough for use on the spookiest of game fish, the "00", for example, is light enough to balance with a #7 or #8 weight rod on larger trout, "half pounder," and bigger steelhead. With its 250 yards of backing, it can also take on salmon of most any size. At the other extreme, the "300" packs 500 yards of the newest 30 pound backing behind shooting heads in sizes like #12, #13 and higher. It is fit for huge shark, Tarpon, tuna or billfish. To paraphrase Havilah Babcock's book, I Don't Want to Shoot an Elephant, I frankly want nothing to do with any creature a Bogdan reel won't handle.
I prefer to play Tarpon, as any big fish, with the drag preset light enough, relative to the tippet in use, to prevent breakage whenever the fish jumps or makes a sudden dash. Additional pressure for pumping in can be easily applied with the index finger of the rod hand. If the fish makes an unexpected move, simply let go the crank, let up on the finger and off he goes, safely. The Bogdan handle will not "bust your knuckles" on a running fish, like most direct drives, because the crank is only spinning half a revolution for every spool turn while line is running out. Conversely, if your fish rushes the boat, a Bogdan picks up slack twice as fast as a single action reel - - and that saves fish!
The availability of Left Hand Wind for right-handed casters is more than just a personal thing, especially with any big game. Putting the fish "on the reel" as soon as possible after the initial hook setting is critical. It's just too much to complicate the task by also switching both rod hand and line hand while trying to guide running line onto the reel from coils that stripping has left on the deck or in a stripping basket. Also, when casting, one uses mostly extensor muscles so fitness conditioning says to balance that by using the flexors on the same arm when playing a fish. Maybe that's a stretch but I am very right-handed and much stronger on that side, so it really works better for me. Lefties, of course, need the right crank.
PACIFIC SALMON
To me, there is no more thrilling fish than Chinook Salmon. They may not get the publicity of some game species but, as I've often said, "If salmon got as big as Tarpon, they couldn't be landed." A fresh 25 pounder is just more fun than should be legal! At 35 they can take an hour to subdue whether you are wading, or casting from a pram. Fish bigger than forty pounds are not uncommon. The late Bill Schaadt, famous for probably having landed more Chinook than anyone, once took 12 hours to beach a 42-pounder (witnesses included a game warden). Whenever I was fishing around him and someone asked about my Bogdan, Bill would usually remark: "Finest reel ever made." Battling a 50-pound fish, you may have to follow him more than a mile in open water and navigate up or down one or more riffles. A fish of this size jumping close to the little rowboat is almost frightening. You may get spooled or rushed so keeping a tight line, especially with the Smith's barbless hook law, requires proper handling; Bogdans make that much more doable.
Since the early 1960s, I've taken Chinook exclusively on Bogdan reels. I spend two or three months every fall on the Smith and Chetco Rivers (Northern California and Oregon), casting to usually observable fish daily. When they're hot and grabby, it is possible to devote most of a day to just playing these great fish. A Bogdan managed an IGFA 12 pound tippet record in 1982 at 44.5 pounds. In 1986 I beat that record with a 50-pounder that took two and a half hours from the time it was hooked until it I got it ashore in the dark. I was in an eight-foot pram and had help from a friend in another boat that attached to my bow line, helped me navigate and prevented my going down a disastrous riffle. Over time I've lost count of the actual number of 45 to 55 pounders that my Bogdans have helped me land.
Bogdans are perfect for this work because of their line capacity, durability, drag-smoothness and, not to be overlooked, the optional click. The reel "sings" a running fish's presence to other anglers, warning them out of your way. You can just hear the quality of the reel in its voice. Rich Henry, noted Chetco River Guide, once smiled as my fish peeled off line, announcing: "Listen to that music! Nothing sounds quite like a Bogdan with a fish on." I agree; it's my favorite song. One easy turn and it's silent, enabling you to strip line quietly when entering new water. Many reels have no such option and click-only based drags can't be made quiet.
Along with a #00 and #100, I still use the original #0, now in its fifth decade, and another #"0" (that is anodized black) on salmon, each pre-rigged with a different sink-rate line so I can change depth quickly with fluctuating conditions. None has ever failed. One day, in 1974, I waded the Chetco with another make, single action reel, just for comparison. Big salmon were moving through my run all afternoon with rising waters. I have no idea how many I hooked, but burned out the drags on two reels and blew the side plate off another before I hiked back to the truck and re-rigged with a Bogdan. After that I landed three fish, each over 30 pounds. That temporary departure from Bogdans on salmon was my only one.
CARE AND FEEDING OF BOGDAN REELS IN SALT WATER USE
As with any make, after fishing in the salt, daily flushing of the reel with fresh water is crucial. To do it properly, avoid a hard spray nozzle. That kind of stream can drive water into areas of the mechanism that might otherwise remain dry. Use a hose with no nozzle and let the water flow smoothly and steadily over the reel from every angle, with particular emphasis on flushing the line on the spool. Let the water soak through the line and backing so that it takes as much salt off the spool as it can, through to the arbor. Do this as soon as you leave the ocean. Once a year, it would pay to remove all the line, including backing, to ensure the bare spool is really clean. I would also recommend aluminum seats on fly rods - - not stainless steel or some other metal dissimilar to the aluminum feet of the reels. Always protect the reels with a padded, water repellant case when not actually casting. Having seen a hooked 100-pound tarpon jump 10 feet in the air and then drop into our boat, I know what damage that kind of thrashing can do to tackle. Cases can help protect against this or any kind of accident.
Design features set Bogdans apart from others and actually aid in their maintenance. The frames are extremely strong and side plates are solidly attached in such a rigid manner they prevent the spools from ever getting off center. Other built-ins include captive-screw takedown and a close fitting spool tolerance, which prevent loose backing from creeping behind. The rugged but watch-like precision makes for close tolerances, which minimizes dirt invading the mechanism. Because of this, the reels may actually require less maintenance than others but I give them maximum attention because I respect their value and want to take no chances.
Periodically, I take mine apart and flush any dirty lubricant out with a good solvent. Then I use white-lithium grease on the gear teeth, getting it evenly distributed. The spindle, hubs and other parts receive a light wiping of a small amount of high-grade gun oil. There are external lube ports for more frequent extra oiling. Since the side plates are held in place by captive screws, one can't be lost when taking the reel down for cleaning. I've never needed to take one apart further and would not attempt it. After years of saltwater use, the spinning handle on the crank might bind. This can be carefully removed to smooth out the surface of the crank. The drag systems simply never wear out and I do keep them clean.
Oh, yeah, never set a rod down where the fly has any chance of getting into the water from a breeze or the boat rocking. It once happened to me: a huge fish immediately gulped down the shrimp fly, bouncing the unattended rod, complete with my first #300, to a watery grave; I just couldn't get to it in time!
YEAR IN, YEAR OUT
Almost seventy years after gleefully tugging that first sunfish onto the Officer's Club dock, I can continually land big fish with complete confidence. The Bogdan reels gave me, and continue to give me, that confidence. No other available fly reel combines all the features I consider so important: 2 to 1 multiplying retrieve, direct drive, extremely broad drag range with pre-set click settings, left/right crank availability, on/off screamer and maximum line capacity across the widest range of sizes. Stanley Bogdan must take great satisfaction in the immense pleasure he has brought to so many fly-rodders, besides myself. I now know that I will wear out long before I can wear out one of his amazing reels.